EXCEPTIONAL CARE GLASS SERVICE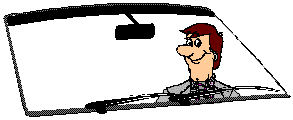 Windshield Rock Chip Repair
WINDSHIELD REPAIR SERVICES
Repairing minor stone chips without replacing the windshield has been our specialty. If your windshield have any of the following chip damage as you see on the Windshield in the picture to your left. Call us now.

The number one purpose of windshield repair is to restore the integrity to the glass by stopping the cracking and breaking process. After a repair is completed, the appearance of the broken area improves dramatically; with our system you will clearly see the difference!
One of the best reasons for repairing a stone chipped aside from the cost is that the original seal and bond between the glass and the vehicle body is very difficult to duplicate when the windshield has to be replaced. Repairing a damaged windshield makes sense for several reasons. Repairs save money by preventing the need for costly replacement, and is very convenient taking only a few minutes.

Avoiding total replacement by using windshield repair is the best way to avoid any potential problems. We at Exceptional Care Glass, feel that windshield repair should always be your first choice whenever possible before paying Big Buck$ for replacement.
APPROVED BY THE FOLLOWING:
REPAIR PRICES
$50.00 Single Rock Chips, Star, Bulls eye, Combination
$10.00 each additional on same vehicle
$60.00 Crack repair up to 6 inches long
$80.00 Crack repair 12 inches or longer
Fleet Vehicles 10 or more $45.00 up to four chips on same windshield